I'm not a fan of component packs. As I said before, I'm a conservative developer who (rightly or wrongly) believes that the less third-party tools I can get away with using the better, purely for future-proofing purposes. When a third-party vendor I already use provides a component similar to some other component I found somewhere, I'll switch to that one to reduce my dependencies. If Delphi then provides that same component as standard in its next version, I'll use that one and thus reduce my dependency again. But it's inevitable that eventually you do have to make use of the terrific toolsets out there because they're there to enhance your applications.
Some aren't so terrific.
For as long as I can remember,
Woll2Woll Software
ran the same
advert in all of the published Delphi magazines with exactly the same screenshot of their
InfoPower Suite
of components. They have achieved the unenviable by managing to show a product that looks no better in 2007 as it did in 1997. Who in their right mind would buy this product when the screen shots look like this? Is this demo showing the best capability of their component suite?
To be fair, because of this I have never downloaded and trialled this package, and it may be that many of you are using it and couldn't live without it. If so, tell us about it, because I wouldn't go near this looking like a Windows 3.1 application and maybe I'm missing out.
On the other hand,
TMS Software
and its founder Bruno Fierens have produced some outstanding Delphi components for many many years. I have been using them before there was even a component pack, instead each component could be used and bought individually. The main draw back then was that for non-commercial use, the components were free, without source. I understand this is still the case. But of course I am using them for commercial use, plus I always support other software vendors, and so I have purchased the Component Pack which, quite simply, is outstanding. Especially when you get full source code too.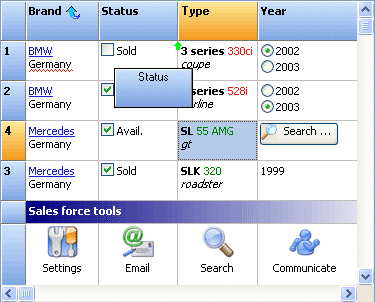 For a staggeringly small €175 (just under £120 or $235 US), the pack contains over 275 components and a year of free updates when they're released, as well as direct email support. Again, I'm not here to promote someone else's business but I am prepared to acknowledge good work and good value for money when I come across it.
In fact it is great work. What started out as a series of Advanced components to replace the Delphi standard components has grown into a business that has seen TMS win
award after accolade
. The components are never left alone, they're constantly being improved and updated; whilst new components get added all the time to try and keep up with the style that Microsoft have decided to take on with each release of Office.
Whilst many may not care about this (I personally don't use them), and Nick Hodges recently said that CodeGear isn't going to try and play catch up with MS any more, to me it shows that Bruno and co are on the ball, always trying to be first to give you that new "look" should you want to keep your products looking in keeping with what Microsoft call the new standard. This isn't playing catch-up at the expense of the other components, this is simply good sense on their part. I'll talk about the moving-Microsoft-standard another day!
TMS also did themselves a lot of favours by supporting
Intraweb
almost as soon as it came out. Their Intraweb Pack contains over 70 components to enhance Intraweb applications in the same way they enhance Windows ones. We used them here for a while when we had a browser-based application and they achieved more than we could have done with Intraweb alone.
Not only that but they've branched out into ASP.Net, CLX and PocketPC component sets too (although you can't use these with Delphi for .NET as it doesn't support the Compact Framework yet, if ever).
The component pack was runner-up for Best VCL Component Set in the 2002-2004 Delphi Informant Magazine awards, second each time to the ExpressPack by DeveloperExpress. I haven't used these components either but they do look good, and I suspect there is an even split between you regarding which one of these sets you use. Although to my eye they're not necessarily direct competitors as the DevExpress toolset is more about the visual whereas TMS also provides a lot of non-visual components to do donkey-work for you.
At any rate, at least both of them know how to market their products well.
Update

: Milan & Paul have made valid points about the documentation and it has been remiss of me to not talk about that in any of my Real-World tools series so far. The documentation in TMS is poor, although sadly this isn't unusual in what I call professional components. ReportBuilder now has excellent documentation and for ODBCExpress, it is acceptable in that the Delphi Help is pretty much all you need. TMS have made the same mistake as Borland did with BDS2005/2006, and to some extent with Delphi 2007 for Win32: that is, not document all of the properties, methods and events. I'm not sure what is worse. TMS omitting them all together or CodeGear having the stub in the help file with no words.
As all of us developers know, documentation comes last but there are so many good tools out there now that can write your documentation for you if you have well-structure code commenting. The JEDI documentation is half missing too but that's free and open source so forgiveable and, in part, up to us to help them with that. It's not forgiveable when you've paid for the components and the technical support falls a bit short (although I've had some good feedback from Bruno via the groups and email in the past).